For visiting one of our vessels moored at the ZZC (Zoomweg Zeeland Coldstore), you are kindly request to fill and send below form.
WHEN PARKING AND/OR PLACING ITEMS ON THE QUAY, PLEASE RESPECT THE YELLOW LINES AND DO NOT PARK/PLACE ITEMS WITHIN THIS AREA.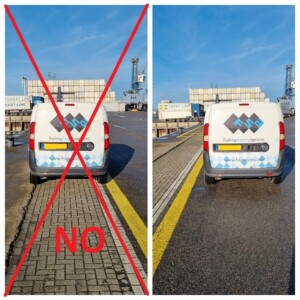 IF THE YELLOW LINE IS MISSING, PLEASE KEEP (AT LEAST) THE FIRST 3 METRES AS FROM THE QUAY CLEAR FROM CARS/ITEMS
PLEASE ALSO ALWAYS RESPECT THE TERMINAL PARKING REGULATIONS.
Terminal details:
Zoomweg Zeeland Coldstore BV
Denemarkenweg 18
4389 PE Ritthem
The Netherlands
Port number: 3975
Our Privacy statement can be found on our website: https://www.fsagencies.com/