For visiting one of our vessels moored at Kloosterboer / Lineage Terminal Vlissingen only, you are kindly requested to fill out below form.
Please note several terminals are located at the Bijlveldharbour, this form is only valid for vessels handled by Kloosterboer.
UPDATE: Please also follow the Lineage terminal safety instructions
Click link below:

Please follow the instruction already prior your visit to the terminal, in order to avoid waiting times at the gate.
WHEN PARKING AND/OR PLACING ITEMS ON THE QUAY, PLEASE RESPECT THE YELLOW LINES AND DO NOT PARK/PLACE ITEMS WITHIN THIS AREA.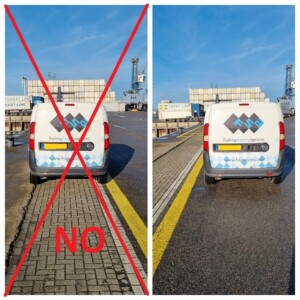 PLEASE ALSO ALWAYS RESPECT THE TERMINAL PARKING REGULATIONS.
Terminal details:
Kloosterboer / Lineage Vlissingen
Finlandweg 10
4455 TE Nieuwdorp
The Netherlands
Port number: 4444
If you intend to announce more then one person, please use the "multiple visitor form".
Our Privacy statement can be found on our website: https://www.fsagencies.com/